Import of Project | New Project | Online nápověda | GEO5
Import of Project
Data is transferred between "Stratigraphy" and the "Data Collector" mobile application in .g5zip format.
The file transfer can be done in any way, the most convenient is to use any cloud solution (Dropbox, Google Disk, etc.) that offers the possibility of synchronizing the folder between the PC (with the "Stratigraphy" program) and mobile device (with GEO5 Data Collector app).
Export
Data export from the mobile app is available for each project under other options (see app control).
Note: The data is stored on the mobile device under the project name by default. Most Android devices do not allow overwriting of the file, so in case of exporting a project with the same name, the file is supplemented with a label expressing the export number (project_1.g5zip, project_2.g5zip, project_3.g5zip...). Deleting outdated versions of a project is always up to the user.
Data export in the "Stratigraphy" program is available from the "Control menu" (File -> Mobile application -> Export to mobile application).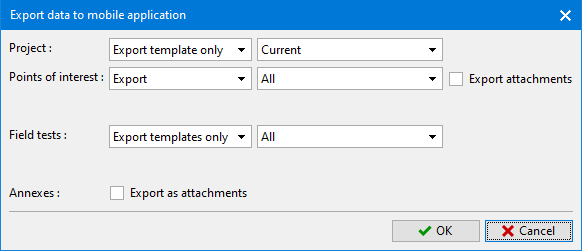 Export for mobile app (in the "Stratigraphy" program)
It is possible to export:
Project (information about the project)
For all items, it is possible to export only the template (for further filling in the mobile application) or also the saved data from "Stratigraphy" (all or selected).
It is also possible to export any annexes that have been added to the output in "Stratigraphy" (and then load them in the mobile app as Attachments).
Import
Importing data into the mobile app is done using the "Import" button on the home page.
Import to "Stratigraphy" is available from the Control menu (File -> Mobile app -> Import from mobile app).